---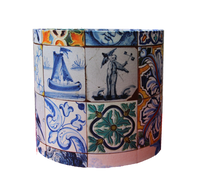 Abat-Jour Cilindro em tecido em algodão estampado com a temática dos azulejos portugueses.
Tecido: Algodão da Vidal Tecidos
Diâmetro da base: 25 cm
Diâmetro do topo: 25 cm
Suporte: E27 (lâmpada grande) ou E14 (lâmpada pequena) utilizando um adaptador
Fixação: Teto ou mesa (ao encomendar indique o que pretende)
- Disponível em qualquer dimensão, peça orçamento para abatjourscompanhia@gmail.com
- Antes da encomenda confirme a existência do tecido em stock para abatjourscompanhia@gmail.com ou através do telemóvel 910283043
- A imagem do abat-jour pode possuir ligeiras alterações de cor em relação ao original.
Fabricado à mão em Portugal
 Lampshade – Tile
Shade material: Cotton 
Top: 25 cm
Bottom: 25 cm
Height: 25 cm
Bulb required: E27 or E14 using a reducer ring (not included)
To be used as ceiling pendant or table light. 
- Available in other sizes, request quotation to abatjourscompanhia@gmail.com
- Before ordering confirm the existence of the material in stock to abatjourscompanhia@gmail.com or to the mobile phone 910283043
The lampshade image may have slight color changes from the original.
Handmade in Portugal