---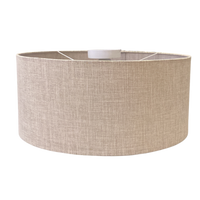 Este abat-jour é uma excelente escolha para quartos e zonas de estar. 
Abat-jour teto com 50 cm de diâmetro e 22 cm de altura.
Ref. A255, cor 3

Preço inclui tampa e base em cromado, branca ou dourada .


- Disponível em qualquer dimensão e tecido , peça orçamento para abatjourscompanhia@gmail.com
- Prazo de entrega: Vária consoante o trabalho existente. O prazo máximo é de 5 semanas.  

- A imagem do abat-jour pode possuir ligeiras alterações de cor em relação ao original.
Fabricado à mão em Portugal
- Available in other sizes, request quotation to abatjourscompanhia@gmail.com
- Before ordering confirm the existence of the material in stock to abatjourscompanhia@gmail.com or to the mobile phone 910283043
The lampshade image may have slight color changes from the original.
Handmade in Portugal